Location: Ashe Arts Center
303 School Ave., West Jefferson
7:30 PM
Doors: 6:45 PM
Free & Open to the Public
Join us for a free concert at the Ashe Arts Center! Sponsored by Ashe County Public Library and Ashe County Arts Council.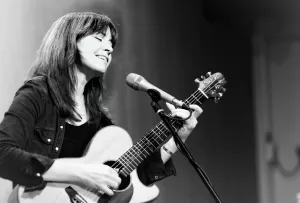 Sarah McQuaid's lush, chocolatey voice combines with her engaging personality, "subtle mastery onstage" (Huffington Post) and "brilliant musicianship" (fRoots) on acoustic and electric guitars, piano and (occasionally) drum to create a truly immersive experience.
Born in Spain, raised in Chicago, holding dual Irish and American citizenship and now settled in rural England, she brings the eclecticism of her background to her "captivating, unorthodox songwriting" (PopMatters) and choice of material, spanning genres and defying categorisation.
All this is abundantly demonstrated by her new live album and video series The St Buryan Sessions — but needs to be savoured in person to be fully appreciated.
WHAT THE CRITICS SAY:
"One of the most instantly recognisable voices in current music … Shades of Joni Mitchell in a jam with Karen Carpenter and Lana Del Rey." — Neil March, Trust The Doc
"She reached parts other singers fail to do … There is emotion, beauty, passion and musically great arrangements and fab playing. It's a complete package. I loved the show and was very moved." — Rob Bozas, Bozas International (Publisher, Peter Gabriel/Real World)
"Captivating, unorthodox songwriting … layered satin vocals … enthralling, harrowing arrangements … a gateway into a true innovator's soul." — PopMatters
"A semi-mottled meander through shadowed memories … insightful & visceral … cinnamon-roasted smokiness and glimmering incalescence." — Raw Ramp Magazine
"I've attended hundreds of concerts of all kinds, and her subtle mastery onstage launches her straight into my fave shows ever." — Huffington Post