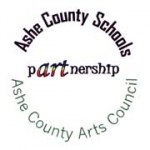 Ashe County Arts Council sponsors performances and arts residencies in the local schools. These cultural arts programs provide every student with an opportunity to experience the arts. Programs range from music, dance and drama to living and historic music traditions to origami and paper making instruction. Programs may involve residencies of 1-2 weeks in duration, or singles classes or performances.
JUNIOR APPALACHIAN MUSICIANS (JAM)
One of the many things to enjoy in Ashe County is the traditional old time music. Passing this musical tradition to the next generation is the purpose of the Ashe County sponsored Junior Appalachian Musicians (JAM) program started in Ashe County in 2001.
The JAM program is available at the Ashe Civic Center. We have a fall and spring semester program. The JAM program offers music to 3rd-8th grade students who want to learn to play banjo, guitar or fiddle.
If you would like to be added to the email for JAM information please email rebecca@ashecountyarts.org
MOUNTAIN ARTS PROGRAM (MAP)
The Mountain Arts Program (MAP) also sponsored by the Arts Council, brings artists to Ashe County Schools for hands-on experiences in clay, creative writing, music, dance, weaving, jewelry making, storytelling,photography, puppetry and origami! MAP provides a spectacular diversity in arts experiences by bringing top quality professional performing and visual artists to western North Carolina counties.