Wednesday, September 13
2:00 pm – 2:45 pm
Ashe County Public Library
This event is free & open to the public.
No registration required.
Join us for a reading with debut novelist, Patti Frye Meredith. Set in Carthage, North Carolina in 1998, South of Heaven tells the story of two estranged sisters forced back under the same roof. Fern McQueen has found peace in middle age despite worries over her troubled son and a beloved aunt whose mind is slipping away. But when Fern's past is resurrected, her peace is shattered. There will be time for Q&A after the reading.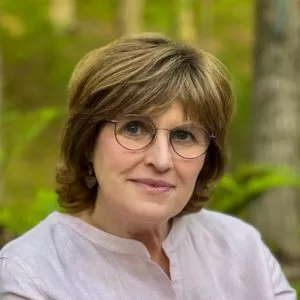 PATTI FRYE MEREDITH
Patti Meredith grew up in Galax, Virginia. Most of her stories are set in the Blue Ridge Mountains, but her debut novel, South of Heaven, takes place in the North Carolina Sandhills where her family's roots run deep.
After graduating from Virginia Tech with a degree in horticulture, she was fortunate to cultivate a career in television production and marketing and worked for many years at PBS North Carolina on the long running program, North Carolina People with William Friday. Patti holds an MFA in Creative Writing from the University of Memphis. Her stories have appeared in Appalachian Review, Still: The Journal, and Mulberry Fork Review. Patti, her husband, Lee, and their Springer Spaniel, Maggie, are now settled in Chapel Hill.