Thursday, September 14
4:30 pm – 5:15 pm
Old Orchard Creek General Store
Free and open to the public.
No registration required.
Join award-winning author David Joy for a talk on the topic of his work as editor for Gather at the River: Twenty-five Authors on Fishing, an anthology of twenty-five remarkable essays on fishing from an ensemble of contemporary authors. Their experiences explore the ways we come to water, for renewal and reverie, or to simply stand waist-deep in a river and watch the trout rise.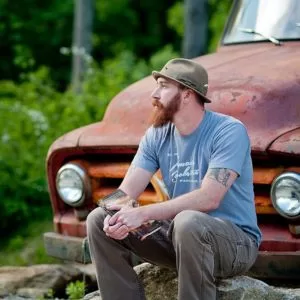 DAVID JOY
David Joy is the author of When These Mountains Burn (winner of the 2020 Dashiell Hammett Award), The Line That Held Us (winner of the 2018 Southern Book Prize), The Weight of This World, and Where All Light Tends to Go (Edgar finalist for Best First Novel). His stories and creative nonfiction have appeared in a number of publications, and he is the author of the memoir Growing Gills: A Fly Fisherman's Journey and a coeditor of Gather at the River: Twenty-Five Authors on Fishing. Joy lives in Tuckasegee, North Carolina.