Feast for the Arts Fundraiser
June 1, 2023
6:30 PM
Ashe Arts Center
303 School Avenue, West Jefferson, NC
RSVP has ended for this event.
Join us for an evening in support of the arts! Guests will enjoy heavy hors d'oeuvres, desserts, complimentary wine, and a special concert with Stone's Throw, a Celtic Trio featuring Diana Stone – violin, Margaret Walters – flute, and Dr. Martha Hill – Celtic harp.
Can't attend and still want to contribute to the Feast for the Arts Fundraiser?
Donations are gratefully accepted.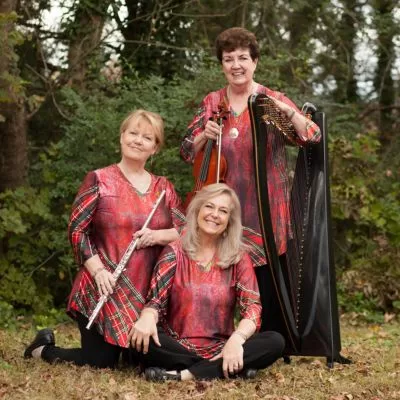 ABOUT STONE'S THROW
In autumn, 2014, the Celtic Trio, Stone's Throw, formed around a love of and desire to play Celtic Music with friends and fellow musicians. Since that time, the unique trio has become well-known regionally, and regularly performs at receptions, weddings, church services, concerts, special programs, and Celtic events such as Highland games.
The musicians that make up Stone's Throw are Diana Stone – violin, Margaret Walters – flute, and Dr. Martha hill – Celtic harp. Although all three are classically trained and hold degrees in music, they love exploring the Irish and Scottish music of their heritage. They also play selections from other Celtic regions – Cape Breton, Wales, and the Isle of Man. For the past few years, Stone's Throw has presented a holiday program blending traditional and Celtic Christmas music in celebration of "Old Christmas", a lost Appalachian tradition that came to the mountains with the Scottish and Irish settlers.
Stone's Throw has studied at Celtic Week at the Swannanoa Gathering, the Kruger Brothers Academy, and with the Kontras Quartet based in Chicago. They have received one-on-one ensemble coaching with Francois Henkins, violinist, of Kontras Quartet. In addition, they have received private coaching from national Scottish harping champion, Sue Richards. Stone's Throw members also study individually with renowned classical and Celtic teachers in violin, flute, and harp.
In July, 2018 and 2019, Stone's Throw won first place for the "Harp in Ensemble" competition at the Grandfather Mountain Highland Games, the largest Scottish Highland Games in the world. In fall, 2018, Stone's Throw released a Christmas CD, "Nollaig Chridheil". Composer/arranger, Daniel Burton, said of the CD, "I enjoyed hearing your group's artistry… and I admire you for your skills and musicianship." California harpist and arranger, Verlene Schermer said, "Your trio did a wonderful job on all the tracks! I especially enjoyed hearing the ones based on my arrangements. You give them wings!" "Sunshine After the Storm", a compilation of Celtic and original tunes, was completed during the Covid-19 pandemic and released in December, 2020.
Stone's Throw may be found on Facebook and on their new website: celticstonesthrow.com.
They may be contacted at celticstonesthrow1@gmail.com.
Feast for the Arts is an important part of Ashe County Arts Council's fundraising initiative. Your participation in this event helps ensure that we reach our annual fundraising goal!
OUR MISSION: The Ashe County Arts Council exists to enrich the cultural life of Ashe County by nurturing and supporting the arts.  
Your  contribution is an investment in the future of your community. As we enjoy another year of community concerts at the Ashe Civic Center and Ashe Arts Center, gallery exhibits, school arts assembly programs, the Junior Appalachian Musicians Project (JAM), downtown murals, the Gallery Crawl, Spring Fest, On The Same Page Literary Festival, the Fiddlers Convention, and the Studio Tours we realize that you who have shared in the Arts Council's vision all these years play a dual role in its success.
.

Contact Info
303 School Ave., West Jefferson, NC, 28694
336-846-2787
info@ashecountyarts.org
Hours: Monday-Friday 10am-5pm
Saturday 10am-4pm
Our Mission
The mission of the Ashe County Arts Council is to enrich the cultural life of the region.
Support Ashe Arts
Your contribution to the Ashe County Arts Council will allow the arts to flourish and grow in Ashe County.
COPYRIGHT © 2022 ASHE COUNTY ARTS COUNCIL