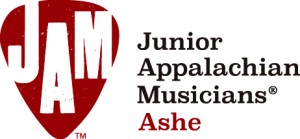 JAM! Ashe County's young people are jammin'! The Junior Appalachian Musicians Program – or JAM – provides instruction from local musicians and educators on how to play traditional musical instruments. Instruction is offered to students in grades 3-8 on the banjo, guitar, and fiddle each afternoon at the Ashe Civic Center.
The Ashe JAM Program began in 2001, and since that time over 500 students have taken advantage of this unique program. JAM began in nearby Alleghany County under the leadership of well-known fiddler and musician Helen White. JAM programs operate throughout western North Carolina as well as in South Carolina and Virginia.
Ashe County's JAM instructors include Martha Spencer, Chris Testerman, Madison Shepherd, Kelley Brieding and Amanda Wright. Students receive instruction twice a week at the Civic Center from September through May. There is a nominal fee for the classes. Students also have the opportunity to participate in several special projects including the popular JAM Club for "graduates" of the regular JAM program. Held at the Ashe Civic Center on Monday evenings, JAM Club is free for musicians age 7-18 enrolled in JAM. Anyone under 13 must be accompanied by an adult; other musicians are welcome!
JAM provides students with a positive experience in the arts and offers them access to a lifetime activity. Keeping the traditions of the mountains alive and passing that love of music on to the next generation is important to the Arts Council. Funds raised from the Ashe County Bluegrass and Old Time Fiddlers Convention will be used to support the Ashe Junior Appalachian Musicians Program for the coming school year.
JAM is supported by a Folklife Grant from the North Carolina Arts Council, an agency of the Department of Natural and Cultural Resources and a grant from the Wayne Henderson Festival.